Serving Independent Jewelers Nationwide
Welcome to the Lisa Adelle Design Custom Marketing Program serving independent jewelers nationwide. We would be honored to have your participation this Spring or Fall (or both).
Each Custom Marketing Program is extremely cost-effective and offers you a choice of more than 250 jewelry, watch and giftware pages to create your Custom Marketing components into any of the following:
Catalogues
Direct Mail postcards
In-store Signage
Newspaper/Magazine Ads
Outdoor
Website Design
The Lisa Adelle Custom Marketing Program offers many concepts for a custom catalogue campaign, which includes a Spring Book, Watch Book and Holiday Book.
This particular option emphasizes a piece of merchandise with a repeat screen back of the merchandise in the background and various metallic inks.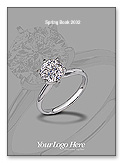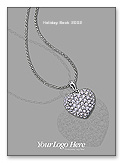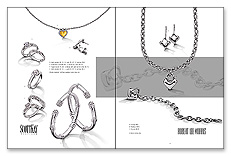 Also included is a sample inside spread of two pages to show how the design would be carried throughout the book.
Simply email us for quotes. We look forward to being a part of your marketing team.


Lisa-Adelle O'Brien
President/CEO