We extend a special thank you to Norman Brinker, founder of Brinker International, for an inspirational visit and for sharing his vision and values on building an organization.

Now that Lisa Adelle Design has reached its 15th Anniversary, our focus is on our founding principles in building an awesome organization. LAD is committed to maintaining grounded values, which guide the way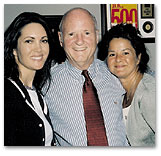 we do business and build lasting relationships. We are firmly rooted in the belief that the key to success with any organization is relationship excellence. We are dedicated to developing collaborative and productive team working relationships with our trusted Clients, Staff Members, and Vendors. We embrace integrity and solid work ethics as essential components in the way we conduct business. We believe in maintaining a positive and professional Agency-family environment based on mutual respect and open communication. After all, the relationships of the Agency are our biggest asset.
The week of his 70th Birthday, Lisa Adelle Design had the privilege to visit with Norman Brinker in the Dallas Executive Studio to discuss his experience and insights on building an awesome organization.
Mr. Brinker began his restaurant career before founding Steak and Ale in 1966. Then in 1983, he purchased Chili's, Inc. which was named Brinker International in 1990. Brinker grew from 1 to 9 restaurant concepts during that time, and it is now the world's premier multi-concept casual dining restaurant company operating in 47 states and 20 countries. Its portfolio includes Chili's, On the Border, Macaroni Grill, Cozymel's, Maggiano's, Corner Bakery, Eatzi's and Big Bowl.
Brinker International is known for its impressive and consistent growth and for its long-term rewards for investors. Mr. Brinker is a great pioneer in the restaurant industry and an astounding contributor to a host of local, state and national fund-raising activities and corporate giving programs.
For his experience, wisdom, values and vision, Lisa Adelle Design celebrates Mr. Brinker and all that he has accomplished and overcome.